The Eugene Garden Club organized on April 28 1927 and became a member of the Oregon State Federation of Garden Clubs in 1929. The club formed to stimulate the love of gardening, horticulture and floral artistry; to aid in the protection and conservation of plants, trees and birds; and to promote civic beauty and community welfare.
The Eugene Garden Club is a tax exempt public charity under Section 501 (c)(3) of the Internal Revenue Code and is organized exclusively for charitable, educational, scientific and benevolent purpose.
Eugene Garden Club
Annual
GREENS SALE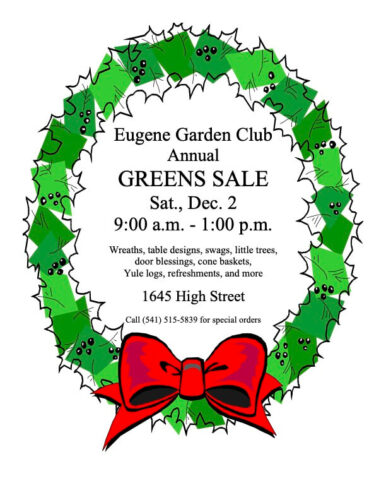 Saturday, December 2nd
9:00 am - 1:00 pm
Wreaths, table designs, swags, little trees, door blessings, cone baskets, Yule logs, refreshments, and more
1645 High Street
Call (541) 515-5839 for special orders
CONSERVATION PLEDGE
"I pledge to protect and conserve the natural resources of the planet earth and promise to promote education, so we may become caretakers of our air, water, forests, land, and wildlife".